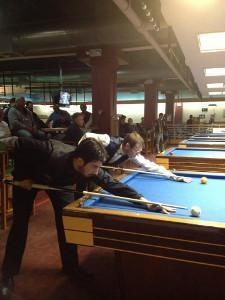 Torbjorn Blomdahl prevailed in the much-anticipated rematch with Pedro Piedrabuena at the Carom Café tournament in New York.
After four days of play and eleven rounds, each player stood at 11-0 when they shook hands to begin thefinal game. Piedrabuena looked to continue the form he showed in July when he defeated Blomdahl for the Verhoeven Open championship, and Blomdahl looked to avenge that loss. The players traded billiards back and forth. With Piedrabuena playing deliberately, Blomdahl had trouble finding his rhythm, early but gradually pulled away to secure a 30 to 24 victory and first place.
Miguel Torres took third with 30-21 victory over Hugo Patino. Torres finished the tournament with a 9-3 record, while Patino posted a 8-4 mark for 4th place. The other place winners were Brian Yi (5th), San Jin Lee (6th), John Christiano (7th) and Sang Bin Lee (8th).
Blomdahl said he was happy to play in New York. He was trying out a new Molinari cue with a low deflection shaft, and the tournament gave him the opportunity to use the cue in competition. While both Blomdahl and Piedrabuena were dominant during the tournament, Blomdahl was truly spectacular, trouncing one opponent after another. The totals scored by his opponents in the 12 games tell the tale: 5, 2, 2, 10, 15, 12, 15, 13, 10, 20, 15, and 24. Blomdahl also posted the tournament's high run (16) and had other runs of 11, 10, 11 and 12. Piedrabuena and HP each had a run of 14.