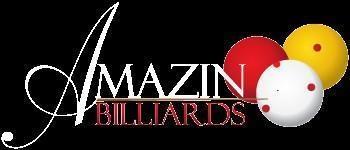 Scott Hewitt qualified for the 2013 USBA national 3-cushion tournament by winning the qualifier held on February 17 at Amazin Billiards in Malden, Massachusetts. Eight players gathered at Mazin Shooni's new private room despite a fierce snow storm that struck New England. Shooni's beautiful room and three brand new Breton 2001 tables provided the perfect setting for the day's competition.

The eight players (Bobby Page, Scott Hewitt, Dave Van Lokeren, Bobby Ferrara, Dave Egdahl, Ellis Lawrence, Rickie Britt and Peter Mastrangelo) were divided into two groups of four where they played a round robin format. The top two players from each group advanced to the finals, where another round robin was played.
Competition in each of the preliminary groups was close. Rickie Britt finished first in his group, with a 2-1 record and a loss in the one hole to Bobby Page, who finished second with a 2-1 record but a 20-8 loss to Peter Mastrangelo. Ellis Lawrence finished 1-2 to take third place, losing close games to Britt and Page. Mastrangelo finished fourth despite his strong victory over Page.

In the other group, Bob Ferrara won with a 2-1 record and a 20-18 loss to Dave Van Lokeren. Scott Hewitt, however, finished second, beating Van Lokeren and Dave Egdahl by the identical score, 20-15. Hewitt's only loss came at the hands of Ferrara, 20-15.

In the finals, Ferrara faded, finishing 0-3. Hewitt secured first place with a perfect record, while Page finished second with a 2-1 record and the only loss coming at the hands of Hewitt. Britt took third with a 1-2 record.
Special thanks go out to Drew Dangelmayer of Carom Corner who provided live streaming video of the event to the Internet, where many around the country had a chance to live chat while watching the action throughout the day.

For more information, see the charts below. The USBA national tournament will be held as part of the Allen Hopkins Super Billiards Expo (SBE) from April 3 to 7, 2013, at the New Jersey Convention and Expo Center in Edison, NJ. (Click here for details.)