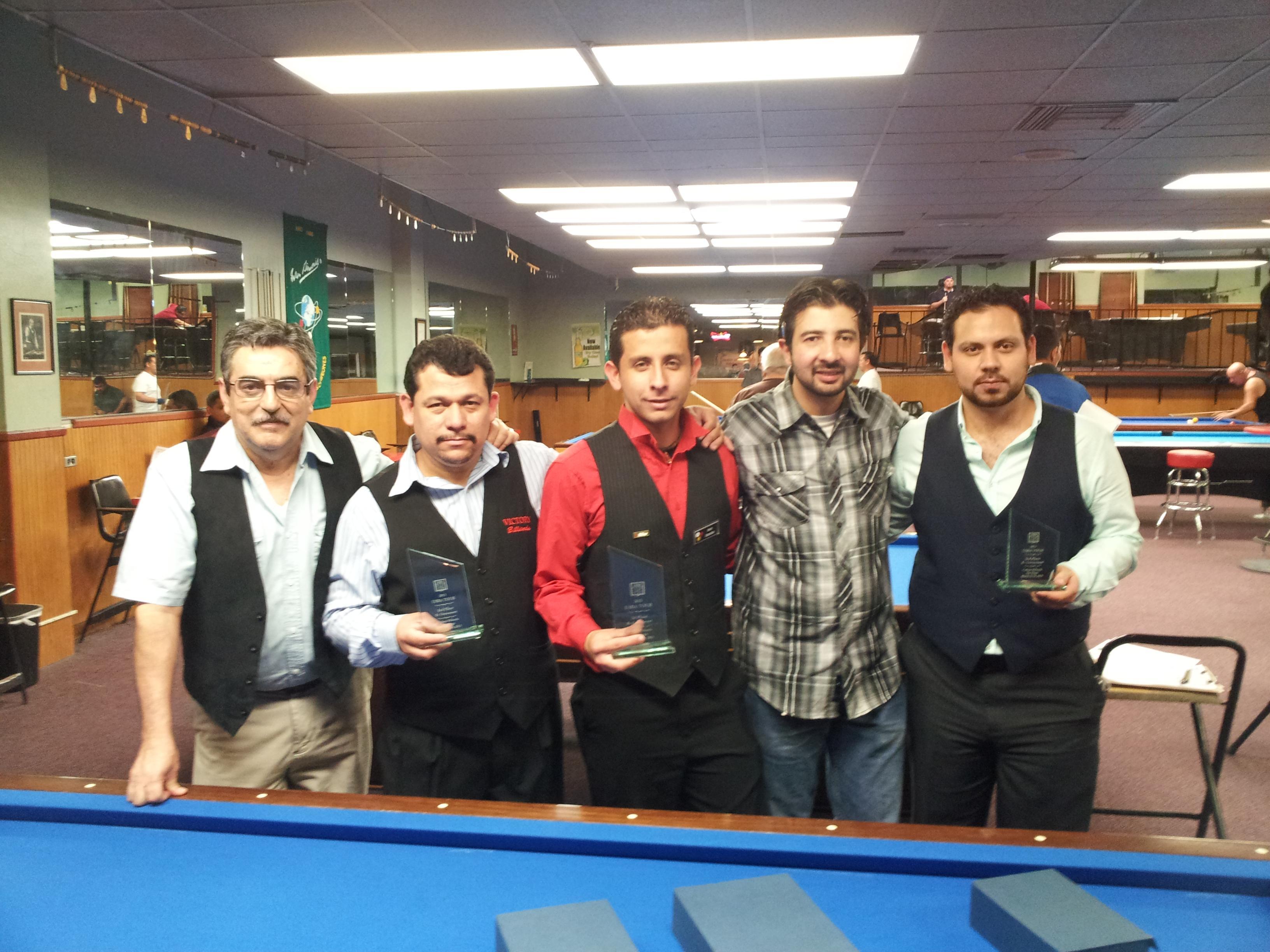 On March 23-24 College Billiards in San Diego, CA held the first USBA TOUR Event for 2013. It was a "B+" tournament which allowed all players with under .900 average to play. "B" and "C" players paid a smaller entry fee.
In all, there were 34 players who showed up for the event. The groups were divided into 5 groups with 7 players each. One of the groups only had 6 players. Averages were kept throughout the entire tournament. The top 2 finishers from each of the five groups advanced to the finals along with one auction and one lottery winner. With 12 players in the finals and 6 beautiful Verhoeven tables, the players were divided into 2 groups of 6 players each. The winner of one of the finals' groups would play the winner of the other finals' group for the Championship.
The ten finalists in order of ranking after the preliminaries were as follows: Ricardo Carranco, Vicky Pineda, Hien Nguyen, Kevin Kwak, Ivan Rosales, Bilal Khalifa, Tony Amriz, Soon Hong, Jesus Alvarez and Isidro Diaz. Congratulations to these 10 fine players. Ivan Rosales had the highest preliminary average of .979 followed by Ricardo Carranco with a .943 average.
In the finals' group A, Ivan Rosales came out on top and in finals' group B, Vicky Pineda won the group with a .973 average. In the final match for the Championship, Ivan Rosales won by a score of 30-26 in 30 innings over Vicky Pineda. Ricardo Carranco won his final match over Manny Gutierrez by a score of 30-28 in 31 innings. Ricardo finished in 3rd place, Manny Gutierrez came in 4th.
We would like to thank Room Owners Pedro Piedrabuena and Timoteo Moreno for their generosity and assistance in running the tournament; Ricardo Carranco who not only was the main tournament director but also played and performed at a very high level; the USBA TOUR Sponsors: David Levine, Jim Shovak, Marty Isserlis, Creative Billiards Shirts & Tommy Thomsen; Tiger Cues for their cue donation.
Congratulations to Ivan Rosales! Complete Charts and match information with averages available here!