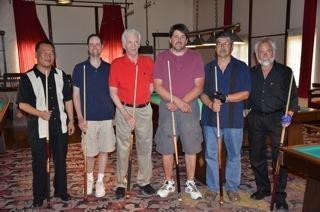 Defending champion and former national champion George Ashby managed to repeat as the winner of the fourth Dubuque Open Three-Cushion Tournament. The event concluded the evening of Sunday June 16th in the billiard room of the Masonic temple at 12th and Locust.
Ashby, of Murrayville, Illinois, got a stiff challenge from Kyung Yim, a strong Korean player from Denver, in the final game, but prevailed at the end with a series of spectacular, pressure-packed shots coupled with tight defense. He took home the first prize of $700.
Yim was second and Fred Lamers, representing the Minneapolis Billiard Club and winner of the first two editions of the Dubuque Open, was third. The surprise fourth-place finisher was Eric Spencer of the Illinois Billiard Club, whose unorthodox style was enough to give Ashby his only defeat. Spencer also won the best-game prize for scoring 25 points in only 20 innings.
The other two money-winners were fifth-place finisher James Richards of Milwaukee and sixth-place finisher Bob Byrne of Dubuque, the tournament director.
The field was limited to 18 players and featured entrants from eight different states, including Yim of Colorado and Ray Piworunas of Sicorro, New Mexico.
Here are the charts for the prelims and the finals: