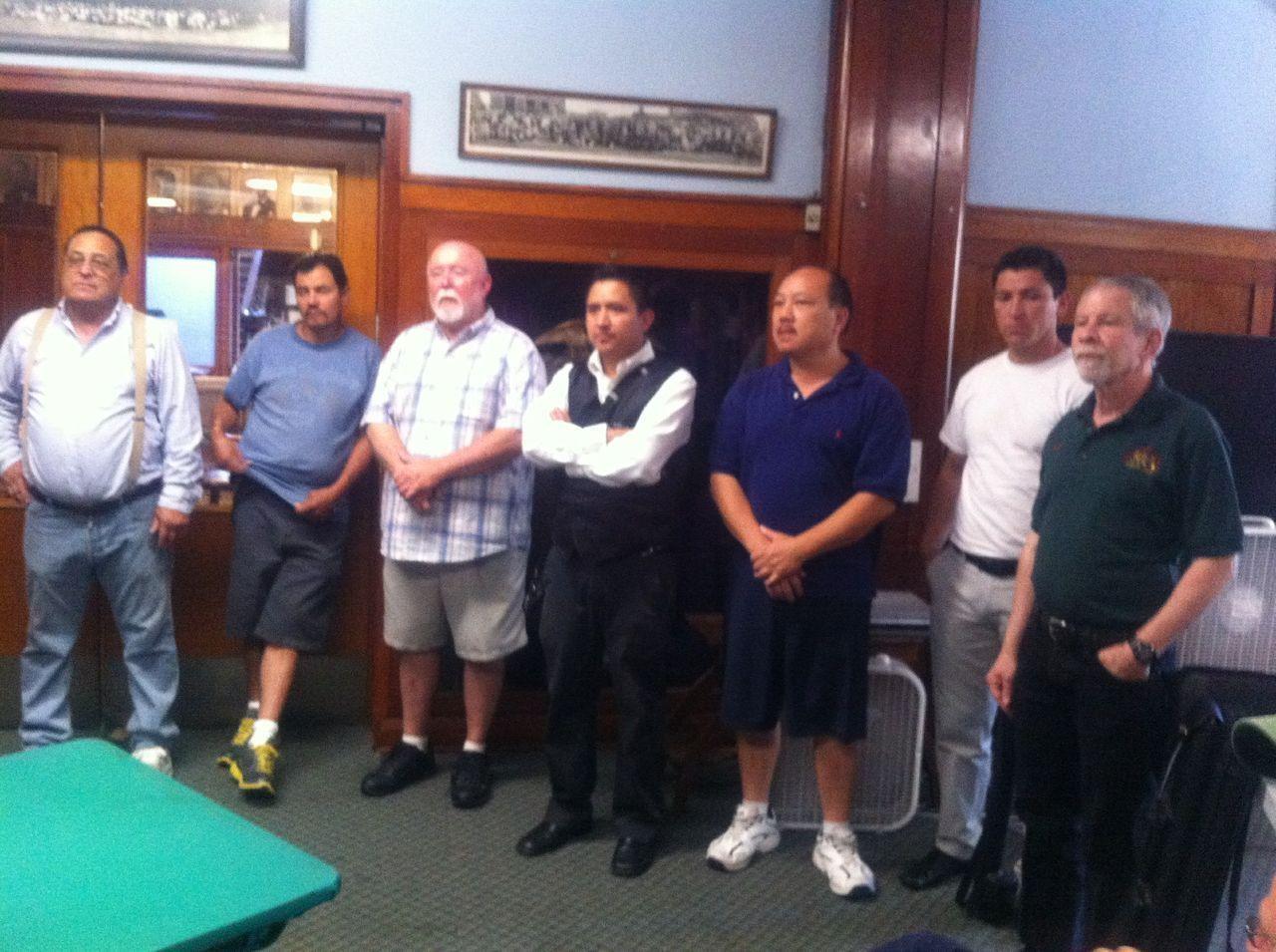 The Medford Elks Lodge once again hosted the Marti Tracy Memorial 3-Cushion Billiard Tour Tournament for B and C players. The event took place July 26-28, 2013 and was a huge success.
We had 39 players sign up for this event – 21 "B" players and 18 "C" players, The "B" players were divided into three, 7-man groups; the "C" players were divided into three, 6-man groups. Round-robin was played for both groups and the top two players were sent to the 6-man round-robin finals.
We played two final rounds on Saturday night and three final rounds on Sunday finishing around 3:00 PM. The awards were presented at that time.
Because of the generosity of many people we were able to garner $3050 in donations. We had $1525 donated by the USBA and had $3960 in entry fees for a total of $8535. We then deducted for the USBA and for the Medford Elks Lodge leaving us with a total of $7755 in prize money.
Since the "B" entry fee was $120 and the "C" entry fee was $80 the prize money was split 60% for the "B" and 40% for the "C" divisions. The total prize fund distribution is listed below.
Homero Landa of Redwood City, California won the "B" division with an unbeaten record in the finals. Francisco Bautisto, also of Redwood City, and Mark Hansen of Sacramento, California tied for 2nd on wins but Mr. Bautista had 3 more points so he was given 2nd place and Mark was given 3rd. Hard on their heels were Eduardo Avila of San Jose, California and USBA SW Director Raye Raskin. They also tied on wins but Mr. Avila had more points so he finished 4th and Mr. Raskin fifth. (Mr Avila also had the high run of 9). The only local player in the "B" finals, Joe Brisson, finished in 6th place.
In the "C" finals young Pablo Flores of San Jose, California finished first; he also had the high run with an 8. Local Marc Smith finished in 2nd place; he needed but one point in his last game or he would have been first. Another local, Mark Williams, was tied with Marc but lost out on points. And yet another local, Alfred Wenzl was tied with San Diego, California native Bill Wood in wins. Mr. Wenzl won out on points for 4th place putting Mr. Wood in 5th. Stockton, California resident Vic Lee rounded out the "C" division in 6th place.
Everyone had a very good time in HOT Medford, Oregon (over 100 degrees almost every day!). We especially want to thank the Medford Elks Lodge for their hospitality and for allowing us the use of their facility. Ashley, you cutie-pie, thanks for taking care of all us men at the bar.
PRIZE FUND DISTRIBUTION
"B" Prize Fund = $4650
1 - $1740
2 - $1280
3 - $860
4 - $430
5 - $120
6 - $120
HR - $100
"C" Prize Fund = $3105
1 - $1165
2 - $850
3 - $545
4 - $285
5 - $80
6 - $80
HR - $100