2014 Tournament is filled with both "Repeats" and "Firsts"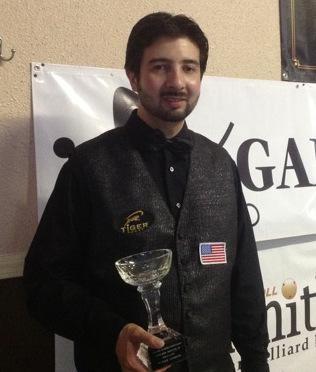 The 2014 USBA National Three-Cushion Championship was (once again!) won by Pedro Piedrabuena. For Piedrabuena this is his seventh championship and fourth in a row. And along with his repeat performance as champion, several firsts for both Pedro and the National event itself were realized.
Watch the final match - CLICK HERE!
Firsts for Pedro Piedrabuena
Finals Average Record Set - 1.892 (surpassing Sang Lee's 1.835 in New York, 1995)
Best Game Record Set - 40 in 8 innings for a 5.0 (surpassing Mazin Shooni's 3.889 in Miami, 2006)
This performance puts Pedro Piedrabuena among an elite group of Internatiolnal players who have achieved the 5.0 performance level and furthers his reputation as a world-cup and world-championship contender.
Firsts For the USBA National Tournament
First time held in Houston Texas - Houston is a up and coming hot spot for three cushion action, with more than a dozen three cushion establishments and more than 40 top quality 5'X10' heated tables in town.
First time all three balls frozen in a game - this oddity occurred in a match between Hugo Patino and Luis Castillo. Check out the picture snapped by Professor-Q-Ball: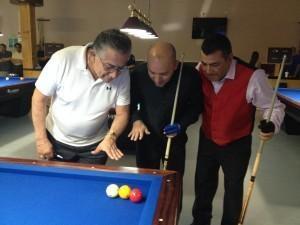 First time a woman player qualified for the finals - 2008 USBA Woman's Champion Merceedes Gonzalez entered the tournament as an open entry and stunned everyone with her performance as she moved from the prelimairies through the semi-finals all the way to the finals where she placed seventh. Great job Mercedes!
Complete results charts for the prelimairies, seni-finals and final rounds can be found on the official tournament page - CLICK HERE!
The USBA wishes to thank all of our sponsors without whose generous support successful events like this would not be possible:
Gabriels - Official Table Sponsor
Simonis - Official Cloth Sponsor
Armamith - Official Billiard Ball Sponsor
Tiger Products - Official Cues and Tips Sponsor
Professor-Q-Ball - Paul Frankel, Proprietor
And once again, congratulations to all the players and to our repeat champion Pedro Piedrabuena.