SEOUL - The fivefold American champion Pedro Piedrabuena has launched the World championship three cushion in Seoul with a world class match. In the group in which Filipos Kasidokostas is the leader, Piedrabuena dazzled in his match against Turk Tolgahan Kiraz to a victory in eight innings: 40-16.
Highlight in the match was the run of eighteen, which was decisive and gave him a big margin. The Turk, who played the World's team championship with Tayfun Tasdemir, remained stunned in his chair and lost with 2.000 average.
The high run of 18 was never made before at a World championship. Frédéric Caudron ran 17 in 2012 and 2013. Korean Dong Koong Kang played a match in 7 innings last year in Antwerp, but was eliminated in the group stage.
The 43-year-old Pedro Piedra Buena was born in Montevideo, Uruguay, but lives already for many years in San Diego (California), where he is the owner of a billiards room. As American champion, he was the successor of the legendary Sang Chun Lee, who came from Korea to New York and was US champion between 1990 and 2001.
In Group D of the World championship Kiraz will meet Kasidokostas in the next round tomorrow (Thursday). Piedrabuena and the Greeks are facing in the final group match.
In the first rounds of the World's in Seoul, Tatsuo Arai defeated Jérôme Barbeillon (40-28 in 31) in the group in which Frédéric Caudron is the leader. Xuan-Cuong Ma bested Kostas Papakonstantinou (40-37 in 24) and playes against Torbjörn Blomdahl in his second group match. And in Group C (with Jaspers) Luis Aveiga won his first match against Arnim Kahofer 40-29 in 31.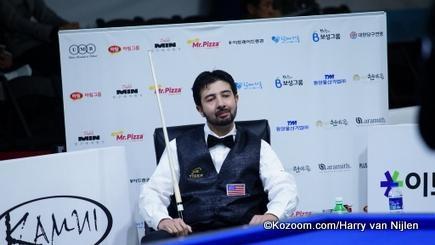 Credits by http://www.kozoom.com/en/billiard-carom/news/pedrabuena-makes-a-dazzling-start-in-seoul.html