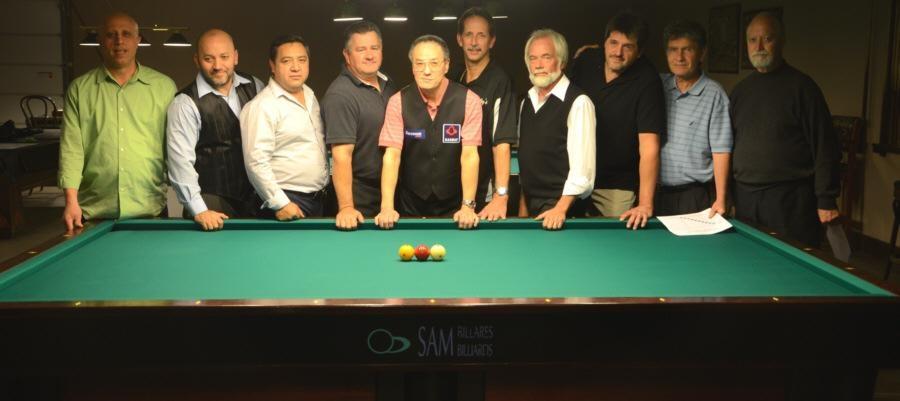 RUSHVILLE FALL 2015 EVENT HIGHLIGHTS:
Professor Q-Ball Publications (Paul Frankel) became the lead sponsor of this event lending credibility and significant exposure to this event and 3-Cushion Billiards in general. Rushville businesses Green Gables Motel and Los Charros Restaurant also made generous sponsorship contributions. Joe VanVooren of East Moline, IL won the High-run Out of the Money for his run of 10 against Dennis Douberteen. Joe's "clean" run also stands as the high run of the entire tournament. Retired Cue Maker, Dennis Dieckman generously sponsored 12- year old Luca Tomassetti's entry into the Rushville event and paid for lodging for Luca and his father John.
Established specifically for this event was the Ernie Presto Good Sportsmanship Award. The late Mr. Presto was a top 3 Cushion player circa 1940 to 1980 and was considered a kind and gentle sole, always willing to share the secrets in his "warehouse sized memory". Google "June 1992 Billiards Digest" to read George Fels
"The Sorcerer's Apprentice" a tribute to Mr. Presto.
The 30 contestants all submitted their vote for the most deserving player in the event and Luca Tomassetti was the overwhelming winner of the $145.00 award also funded by Dieckman. Schuler Cues by Mendoza (Noel Mendoza) generously donated a $750.00 cue to be raffled with the proceeds going to the prize fund. The raffle generated $590.00. The raffle income qualified for the USBA 50% match so the total raffle benefit to the prize fund was $885.00.
Luca Tomassetti was selected to pull the ticket to determine the lucky winner and guess what? Luca pulled his own ticket. The following Players and Fans of 3-Cushion also made generous donations to the event. Rushville Mayor Carson Klitz ($1,000), R. Bates Allen ($50), Gordon Hamblin ($100), Bob Keller ($250), Dale Saunders ($50), Mickey Campbell ($500), Nam Cho ($200) Dennis Dieckman ($210). These donations also qualified for the USBA 50% match which equaled an additional $1,360.00.
READ ENTIRE ARTICLE