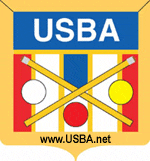 Amazin Billiards hosted a National Qualifying Tournament on Sunday, January 10th and 10 players made their way from numerous states to compete.
Here's a list of players and their home state.
Flight A:
Manny CunhaMassachusetts
Scott Hewitt New Hampshire
Kevin Perry Connecticut
Christian GreelyConnecticut
Eric Spencer Rhode Island
Flight B:
Bob Page Massachusetts
Bob JohnsonMichigan
Joe DeAmatoMassachusetts
Dave Egdahl Massachusetts
Glen Powle Connecticut
Flight A winner at 3 & 1 was Eric Spencer. Second place in the flight went to Scott Hewitt. Eric and Scott advanced to a 4 man round robin that would yield 3 players a qualifying spot in the National Tournament in March.
The big story in Flight A had to be Manny Cunha. Relatively new to the game of 3 cushion from pocket billiards, Manny won his first 3 matches. Besting the eventual flight winner Eric Spencer, Manny's chances of advancing seemed all but secured. His last match was against Scott Hewitt and Manny could even afford to lose but had to make 12 points in doing so to advance to the finals. Scott on the other hand needed to win and along the way, hold Manny to 11 points to advance himself. Scott opened that game with quick runs of 4 & 2 but Manny squared the match at 10 apiece. From there, Manny's dream became a nightmare. He made only 1 more point to Scott's 10 and lost 20 to 11 losing out with the tiebreaker head to head loss. Still a great accomplishment for Manny going 3 & 1 against a group of established players.
Kevin Perry finished 1 & 3 beating Christian Greely and kept Christian winless. Both players competed well and will be back.
The Flight B winner was Joe DeAmato who went undefeated. The 2nd place finisher was Bob Page at 3 & 1 and Bob and Joe both advanced to the final round of 4.
Third in flight B at 2 & 2 was Dave Egdahl who battled hard as he always does. At 2 & 0 and losing then to Bob, Dave was down 9 to 0 against Joe and a loss would eliminate him from final contention. He came back to tie the score at 10 all and at 13 to 11, Joe ran 7 and out to snuf out Dave's comeback. Bob Johnson finished 4th at 1 & 3 and competed hard while trying to adjust to the tables and his win came against Glen Powle who competed hard all day.
The final round had Joe DeAmato, Eric Spencer, Bob Page and Scott Hewitt in a 4 man round robin.
First round had Bob besting Eric 25 to 21 and Joe beating Scott 25 to 13.
Second round saw a battle between Bob and Scott with Bob emerging victorious 25 to 22. Joe was losing to Eric 19 to 11 and put together runs of 6 & 4 to take the lead 21 to 19. Joe won from there 25 to 20.
The third round match between Eric and Scott was for the final qualification to the Nationals while Joe and Bob's match meant nothing to the outcome. Both Joe and Bob had at that point qualified. Joe won that match 25 to 23.
Eric took down the match with Scott by playing possibly his best game of the tournament winning 25 to 16.
So congratulations go out to Joe DeAmato, Bob Page and Eric Spencer for their qualifying ticket to the Nationals and to Scott Hewitt for making the finals and grabbing $100 for his 4th place finish.
Many thanks go out from the players to room owner and National Champion Mazin Shooni for making this tournament a reality and beyond that for his hard work throughout the tournament keeping it running smooth with over the top hospitality. We'd be remiss if we didn't also congratulate our new President of our USBA Mazin Shooni and take this time to wish him well in this new and exciting endeavor.