In the first of what many hope will usher in a new era in United States billiards, Gabriels Tables and Casino Del Sol Resort bring USBA tournament play to Tucson, Arizona. Two events - a "B" tournament and an "Open" tournament - attracted the maximum 40 players in each event. The first event was won by Jesus Quinones when he defeated Ertan Tarhan in the final match by just one carom. Picture above from L to R: Winner Jesus Quinones, 2nd Ertan Tarhan, 3rd Raye Raskin and 4th Mercedes Gonzalez Complete charts and pictures follow.
Play began Monday January 16 and ended on the 18th for the "B" event. Immediately following from the 19th to the 21st the Open event took place. Both events are available on YouTube live-stream and replay courtesy of POV Pool.
USBA Tour B Photo Gallery
Click on the image below to start the slide show!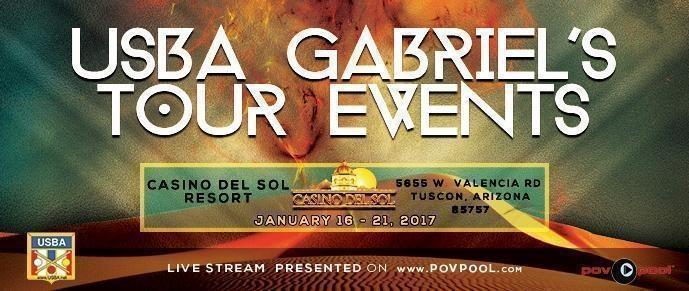 Official Charts USBA Tour "B" Tournament
Click on any image to expand.
{gallery}0Galleries2016/20170116DelSolB{/gallery}