Once again 3-Cushion Billiards was prominently featured at the 2017 Allen Hopkins Super Billiards Expo. Held in Oaks, Pennsylvania from March 30 through April 2. Professor-Q-ball Promotions (Paul Frankel) presented a series of events all centered around 3-Cushion Billiards, culminating in a USBA National Qualifier tournament.
Twelve players entered the event at the SBE with the hope of winning one of four entries to the USBA 3-Cushion National Championship to be held June 6-11 at the Casino Del Resort in Tucson, Arizona.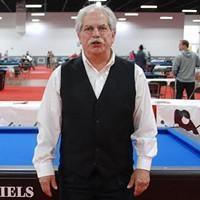 The players were divided into two flights of six to play in round robin format. The top two players from each flight were awarded the free entry into the National Championship. In addition, the third place finishers in each flight received $100. And each flight also awarded the player making the high run $50.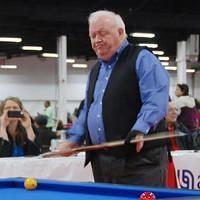 In Flight A it was Tom Paley (left) going undefeated to take first place with Ken Holstrom (right) taking 2nd. Third place and $100 went to Jairo Lenis. The high run of 4 was split among 5 players. Hey $10 ain't bad. Good for a small cup of coffee at Starbucks, right?
In Flight B it was Peter Hull first and Paul Frankel 2nd winning free entry into the Nationals. Third place and $100 went to Tom Rossman. High Run of 5 was split between Peter Hull (left below) and Paul Frankel (on the right)
The Super Billiards Expo held each year by Allen Hopkins has been host to a number of great 3-Cushion events in the past. Besides the tournament, this year's event featured an introduction to the new carom game of 'Five Ball" which attracted many new players to the beautiful Gabriels tables that were brought in for the event.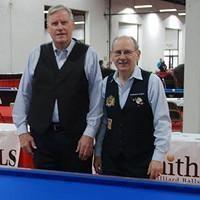 And next year? Who knows what surprises Professor-Q-Ball has in store. Stay tuned.
Enjoy our Image Gallery below for more pictures and the charts for both flights. Click any image to start the show!
{gallery}0Galleries2016/20170402SBEQualifier{/gallery}