NOTICE: Field expanded to 56 players -- NOW FULL!
The USBA Amateur B-Classic 3-Cushion Tournament will be held January 8-13, 2018 at the Casino Del Resort in Tucson, Arizona. The field is limited to 56 players and as of December 19th it is now full! No more open spots... although a last minute cancellation could of course come in. Click the "Read More" link below to see the official players list.
Very soon players and fans alike will get to see which "B" has the biggest sting!
Playing? Going to the event? CLICK TO MAKE A RESERVATION at the Casino Del Sol Resort. (Use money-saving reservations code: USBA.)
The official list of players, tournament format and daily schedule follows: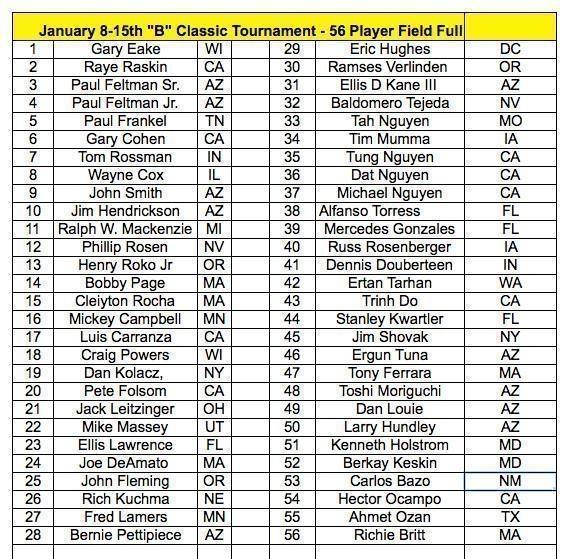 USBA Tournament
January 8th – 13th, 2018
Casino Del Sol
Based on 56 players with 5 tables and 6 days, Race to 20 points in Qualification Rounds (1hr.15min) 8 groups of 7: 168 games total, 5 days = 35 matches/day
Monday, January 8th, 2018 (35 matches)
Players' Meeting 9:00am
Morning Session:
10:00am – 11:15am (5 matches)
11:30am – 12:45pm (5 matches)
1:00pm – 2:15pm (5 matches)
2:30pm – 3:45pm (5 matches)
(20 matches, each table plays 4 matches)
Afternoon Session:
4:00pm – 5:15pm (5 matches)
5:30pm – 6:15pm (5 matches)
6:30pm – 7:45pm (5 matches)
8:00pm – 9:30pm (5 matches)
(20 matches, each table plays 4 matches)
40 matches
Tuesday, January 9th, 2018 (35 matches)
9:00am – 10:15am (5 matches)
10:30am – 11:45pm (5 matches)
12:00pm – 1:15pm (5 matches)
1:30pm – 2:45pm (5 matches)
(20 matches, each table plays 4 matches)
**Break 2:45pm – 3:30pm**
Afternoon Session:
3:45pm – 5:00pm (5 matches)
5:15pm – 6:30pm (5 matches)
6:45pm – 8:00pm (5 matches)
8:15pm – 9:30pm (5 matches)
(20 matches, each table plays 4 matches)
40 matches
Wednesday, January 10th, 2018 (35 matches)
9:00am – 10:15am (5 matches)
10:30am – 11:45pm (5 matches)
12:00pm – 1:15pm (5 matches)
1:30pm – 2:45pm (5 matches)
(20 matches, each table plays 4 matches)
**Break 2:45pm – 3:30pm**
Afternoon Session:
3:45pm – 5:00pm (5 matches)
5:15pm – 6:30pm (5 matches)
6:45pm – 8:00pm (5 matches)
8:15pm – 9:30pm (5 matches)
(20 matches, each table plays 4 matches)
40 matches
Thursday, January 11th, 2018 (35 matches)
9:00am – 10:15am (5 matches)
10:30am – 11:45pm (5 matches)
12:00pm – 1:15pm (5 matches)
1:30pm – 2:45pm (5 matches)
(20 matches, each table plays 4 matches)
**Break 2:45pm – 3:15pm**
Afternoon Session:
3:30pm – 4:45pm (5 matches)
5:00pm – 6:15pm (5 matches)
6:30pm – 7:45pm (5 matches)
(15 matches, each table plays 3 matches)
35 matches
*Carom Clash Matches begin at 8:30pm
Mazin Shooni vs. Tom Rossman
Gilbert Najm vs. Mike Massey
Friday, January 12th, 2018
10:00am – 11:15am (5 matches)
11:30am – 12:45pm (5 matches)
01:00pm – 2:15pm (3 matches)
(13 matches, each table plays 3 matches)
**Break 2:15pm – 3:30pm (Finals Bracket to be worked on)**
FINALS
(16) Top 2 finishers of each group (Based on W/L games, if equal than a deciding match, race to 20 points)
Final Tournament: Race to 25 points (1hr.30min)
Finals Players' Meeting 3:30pm
Finals Round 1:
Deciding Matches to be played after Meeting
4:00pm – 8 matches (3 hours)
*Carom Clash Matches begin at 8:00pm
Mazin Shooni vs. Gilbert Najm
Tom Rossman vs. Mike Massey
Saturday, January 13th, 2018 (15 matches total)
Finals Round 2:
11am – 4 matches (1.5 hours)
Finals Round 3:
12:45pm – 2 matches (1.5 hours)
**Break 12:45pm – 1:15pm**
Semi-Finals (3rd/4th)
1:30pm – 3:00pm (1.5 hours)
Final Round (1st/ 2nd Place)
3:30pm - 5:00pm
*Carom Clash Match begins at 8pm
Team vs. Team