The first USBA National Qualifier of 2020 was held at Carom Café Billiards in Flushing New York on Sunday January 12, 2020. First and second place finishers in four groups will compete in the USBA National Championship.
Twenty players entered in the one day event. The format was 4 Groups of 5 Players playing to 25 point matches. The winner of each group is qualified for the USBA National Championship. In addition the 2nd place finisher in each group –will receive $200 towards their entry fee. Here are the eight lucky winners:
Qualified Players
Raymon Groot
Song Lim
Young Kyu Lee
Tae Kyu Lee
2nd Place Finishers
Lloyd Wallace
Julian Molina
Sang Jin Lee
Kang Lee
Interest is so high a second qualifier event is scheduled for later next month.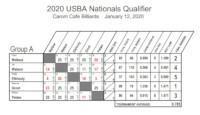 Click the image to expand and see all the flight results.