In a gritty, consistent and still a stunner of a performance, local player Tae Kyu Lee wins the 2020 USBA 3-Cushion National Championship. Continue reading for complete charts, players list and links to video replay of all the streamed matches.
Playing in his home 3-cushion room, Carom Cafe Billiards in Flushing, New York, Lee won his preliminary flight with just one loss. Then he went undefeated in the 16-man single elimination finals to take the crown, winning the final match against Raymon Groot who ranked top of the preliminary field. More news and pictures from the event will be posted soon. Check the links below to see the round by round results charts and more.
Replay of all streamed matches now on the USBA YOUTUBE CHANNEL.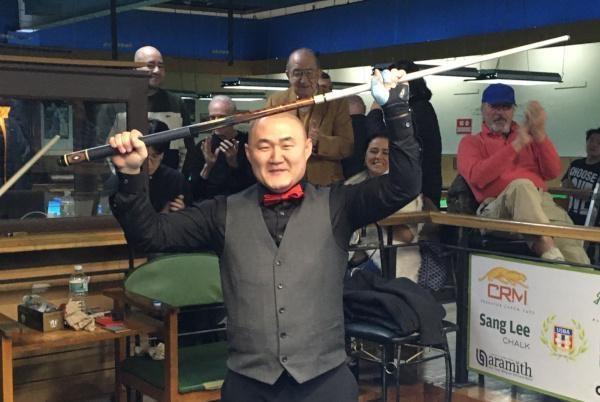 And don't forget to visit our PHOTO GALLERY
Thursday February 27 through Sunday March 1, 2020
Live from Carom Cafe Billiards in Flushing New York
Tournament Format & Results
Tournament Director: Charles Brown. 36 Players Entered. Qualification round 4 groups of 9. Eight matches for each player to 25 points. Top 4 advance based on: Won/Loss, Total Points, Head-to-Head, Points Against or a Shootout. Finals 16-player single elimination with matches to 40 points.
Hover mouse over an image to see the caption. Click an image to expand. (Charts are now official.)
Players entered in the 2020 National Championship
1 Hugo Patiño

returning 2019 champion

2 Miguel Torres

returning 2019 runner up

3 John Park

returning 2019 4th place

4 Mazin Shooni

former (2006) champion

5 Gilbert Najm

6 Sonny Cho

former (2005) champion

7 Song Lim
8 Young Kyu Lee
9 Tae Kyu Lee
10 Raymon Groot
11 Lloyd Wallace

12 Julian Molina

13 Sang Jin Lee
14 Kang Lee
15 Camilo Medina
16 John Duque
17 Carlos Ramos
18 Jerry Jerone
19 Abel Calderon
20 Yim Kyung Soo
21 Demetrios Tilaverides
22 Michael Kang
23 Young Gull Lee
24 Woong Shin
25 Mike Chen
26 Sun Shin
27 Andres Fernandez
28 Jesus Quinonez
29 Marc Smith
30 Jairo Lenis
31 Charles Delorme
32 Vass Vassi
33 Jim Watson
34 Walid Elkhouly
35 Edward Gomez
36 Rich Vitzthum