Thirty billiard players gathered, with masks on face and cues in hand, to compete in the 2020 Carom Café Masters Tournament from December 3 to 6, 2020. Harry Peña, who survived Covid-19 earlier in the year, ended up on top, besting a field that included four USBA National Three-Cushion Champions, including the reigning crown holder.
The tournament began on December 3rd with the drawing of the five groups. Play commenced and ran through late Sunday afternoon. John Park of Houston won Group A with a 5-0 record. Hugo Patiño, a multiple-time USBA national champion, finished second with a 3-2 record. Group B proved to the be the surprise of the tournament, with Won Sik Kang finishing first, undefeated. Reigning USBA national champion Tae Kyu Lee finished second. Miguel Torres, a two-time USBA national champion, prevailed in Group C. Harry Peña finished second, losing to Torres 25-23. Carlos Mario Villegas proved the best in Group D with Tyler Ma, a young player form Houston, the runner up. Former national champion Sonny Cho won Group E with a 4-1 record, losing to Eric Kwon, 25-24, who finished second. The top two from each group advanced to the final round robin along with two third-place finishers George Karam from Group B and Sang Jin Lee from Group E.
The twelve players were then placed in two groups of six. Tae Kyu Lee found his championship form, winning Finals Group A with a 4-1 record. Sonny Cho finished second. Eventual champion Peña had a perfect 5-0 record in Finals Group B. San Jin Lee placed second. The first and second place winners from the finals group advanced to the four man knock-out round.
Peña continued his dominance in the semi-final round, crushing Sonny Cho by the score of 40 to 15. In the other semi-final Tae Kyu Lee outlasted Sang Jin Lee, 40 to 31. In the finals, Peña, the charismatic Colombian dazzled. He rushed to a 9-1 lead, playing fast and with confidence. He added a run of 10 and raced to the finish, doubling up Lee, 40 to 20, in 25 innings to capture the crown and the $2500 first-place prize. San Jin Lee took third, defeating Sonny Cho 40 to 17.
Click a link here to see all the charts and results:
In a touching tribute before the start of play, Michael Kang, the owner of Carom Café, and the other players held a moment of silence for Jim Watson, who died suddenly in September. Watson, seen below (2nd from right) in a picture from days gone by, was a local player of both pocket and carom games and is remembered by all as a gentleman and sportsman.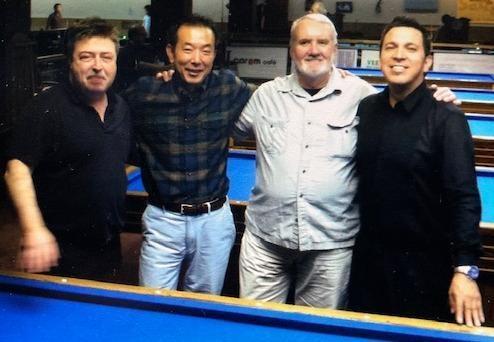 With his victory, Harry Pena's 2020 ended on a happy note. Earlier in the year, he had to be evacuated from Carom Café via ambulance after he felt ill. He was later diagnosed with Covid-19. His play is proof of his full recovery, and the billiards world looks forward to post-Covid-19 tournaments in 2021.