Three Cushion Billiard News
Details

Hits: 2423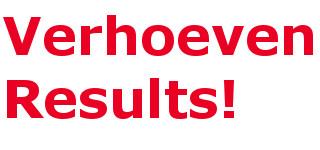 Eddy Merckx of Belgium has won the 2018 Verhoeven Open at Carom Cafe in Flushing, New York. Once again the USBA, UMB, Owner Michael Kang and Tournament Director Charlie Brown have brought the best of the world's 3-cushion players to the USA. This year 98 players met in the preliminary rounds. Along with 5 seeded players 40 competed in the semi-final. And finally, a single-elimination final segment deteremined the champion.
Details

Hits: 1744
The score sheets from the finals of the NW Open Mike Fahey Memorial held July 20-22nd tell the tale - billiards continues to thrive in the Northwest region.
Details

Hits: 3988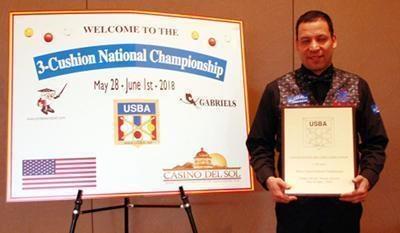 For the last 11 years, Miguel Torres has thought about that glorious week in 2007 when he won the USBA Three-Cushion National Tournament. He's been trying to get back to the top of the podium ever since. Last year, he came close, finishing second to Pedro Piedrabuena, the nine-time champion. This year, he avenged that second-place finish last year by besting Piedrabuena, 35 to 33 in 22 innings (1.591), thus winning the crown and $5,000.
Details

Hits: 2121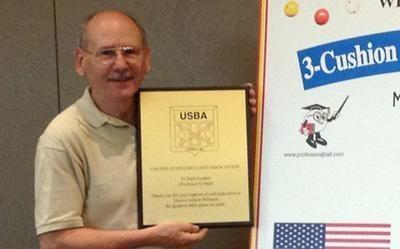 At the USBA Three-Cushion National Championship tournament held at the Casino del Sol Resort in Tucson, Arizona, the United States Billiard Association honored Paul Frankel, better known to the billiards world as Professor-Q-Ball, for his contribution to three-cushion billiards. More than anyone during the last fifteen years, Paul has been responsible for the resurgence of three-cushion billiards in America.