2023 Natioanal Championship Results
Three Cushion Billiard News
Details

Hits: 654
Twenty-three players entered the Carom Café tournament, which was billed as a tune up for the 2021 National Tournament to be held at the same venue in December.
Details

Hits: 456
Boynton Beach Qualifier
Camillo Medina and Hernan Patarroyo secured spots in the 2021 USBA national three-cushion tournament following a ten-man round robin qualifier at Europa Billiards in Boynton Beach, Florida.
Medina, a seasoned veteran and multiple-time qualifier, finished first with an 8-1 record, with his sole loss coming at the hands of Patarroyo by the score of 25-24. Patarroyo also finished 8-1 but had to settle for second place because he scored but 21 points in his only loss. Steven Rios placed third, with a 6-3 record, including a 25-21 victory over Patarroyo.
Details

Hits: 1599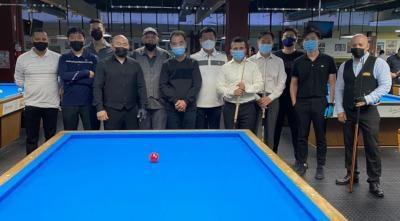 Thirty billiard players gathered, with masks on face and cues in hand, to compete in the 2020 Carom Café Masters Tournament from December 3 to 6, 2020. Harry Peña, who survived Covid-19 earlier in the year, ended up on top, besting a field that included four USBA National Three-Cushion Champions, including the reigning crown holder.
Details

Hits: 674
Felipe Razon Leon, a mainstay of the Chicago 3-C scene, died suddenly on December 3, 2020, a month short of his 56th birthday.